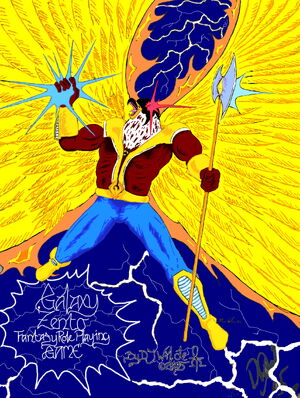 Welcome to the GalaxyZento Wiki
Edit
Galaxy Zento is my character universe, filled with heroes, villains, monsters, super powers, amazing technologies, magic, aliens and more!
Describe your topic
Edit
Galaxy Zento is a complete universe of spectacular places and people. I'm sharing my universe with the world while I work to publish the novels and also some short stories. What you will come to find here are all sorts of informative pages about my universe. These will include character bios, artwork, short stories (showcases), and what ever else I can come up with. I do hope you enjoy your tour of Galaxy Zento. Please be sure to visit the Facebook page, Blogspot, DeviantArt and other places where you may find special things you can get to start your own collection in my universe.
Latest activity
Edit
Ad blocker interference detected!
Wikia is a free-to-use site that makes money from advertising. We have a modified experience for viewers using ad blockers

Wikia is not accessible if you've made further modifications. Remove the custom ad blocker rule(s) and the page will load as expected.