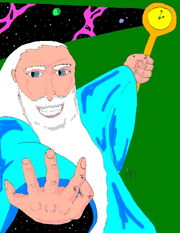 Real Name: Unknown
Height: 5ft 10in
Member of the Darksiders
Tick Tock is a crafty old man who seems to exist on multiple dimensional planes at once. He can craft time pieces that can do anything any technology, power, or spell can do. He can walk anywhere and nothing seems to stop him because of his multi-dimensional existence.
Tick Tock is very sneaky and always has something with him for when occassions get difficult. His clock staff can cast any spell known in the universe. He is also very hard to hit with anything.
It's possible that Tick Tock is the most dangerous of all the Darksiders.
Tick Tock's Galaxy Zento Stats are: STR: 1 END: 1 SPE: 1 AGL: 1 MNT: 10
Ad blocker interference detected!
Wikia is a free-to-use site that makes money from advertising. We have a modified experience for viewers using ad blockers

Wikia is not accessible if you've made further modifications. Remove the custom ad blocker rule(s) and the page will load as expected.