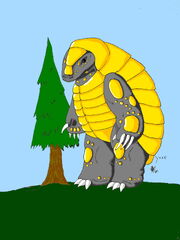 Real Name: Yxee (pronounced yix-ee)
Height: 26ft 7in
Member of Crusade.
Honorary Member of the Chessmen
Yxee is an Armourdillan, a creature that looks like a heavily armored giant armadillo. His skin is organic mystical metal and virtually impenetrable. Yxee fights with long mystical metal claws or by rolling up into a ball and ramming targets.
Yxee is spiritually bonded to Songcutter the blind bardic swordsman.
Yxee never says anything, but appears to be a creature of intelligence. He's very protective of Songcutter and may attack anything that threatens his friend. His claws have been known to shred battle tanks.
Armourdillans are extremely rare and were thought to be extinct in the universe.
Yxee's Galaxy Zento Stats are: STR: 6 END: 7 SPE: 4 AGL: 1 MNT: 2
Ad blocker interference detected!
Wikia is a free-to-use site that makes money from advertising. We have a modified experience for viewers using ad blockers

Wikia is not accessible if you've made further modifications. Remove the custom ad blocker rule(s) and the page will load as expected.